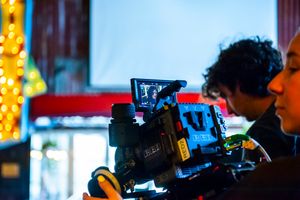 Meet the Directors
K.W. MILLER
K.W. approaches each new endeavor like a newly unfurled crocus; absolutely receptive and open to all life has to offer. Dedicated to developing a broad scope of experience and expertise in various positions of the production arena, he has immersed himself into several different disciplines and cultures across the globe. On the creative side of production, Kehan has worked on both sides of the camera, stage and microphone.
His producing, writing, direction and choreography credits showcase over 30 years of experience working with industry leaders in film & television, theatre and live events. He is currently guiding the development and negotiations for the film version of the award winning video game DREDGE by NZ company Black Salt Games. He secured prominent industry entertainment law firm Greenberg Glusker in Los Angeles for legal representative and is helping to navigate negotiations with top movie production companies to partner with. Other credits include He lead producer and editor for the Oscar qualified documentary short film Ink and Gold: An Artist's Journey to Olympic Glory, which has been an Official Selection at 63 film festivals since the beginning of 2023, receiving 57 awards (including 34 Best Documentary Short Awards) and is an Official Selection for the "SPORT MOVIES & TV 2023 – 40th Milano International FICTS Fest" in Milan, Italy;  Backgammon: Survival Of The Misfits (which premiered at The Cannes Film Festival and garnered a Best Feature Film Award at the New York International Independent Film Festival);  actor and producer on the feature A Couple Of Days and Nights (with consultant Nancy Wilson of the rock band, Heart);  several documentary films and reality series, including 4 Inch Heals, a documentary driven by one woman's compelling true life exposition of courage, offering empowering views on alternative approaches to cancer treatment;  Friends: End Of Life Celebrations, an upcoming docuseries that follows unique, personalized end-of-life funeral experiences that reaffirm the beauty and value of life AND death; and Erroneous, an upcoming feature documentary exposing the criminal world behind identity theft, falsification of death records and money laundering within the Social Security system and international banking corporations.;  the Kid's Choice Award winning shows of Disney Channel's The Suite Life On Deck and Nickelodeon's The Amanda Show, The Nick Cannon Show and All That;  notable stage productions such as the award winning Barry Manilow's Copacabana and The Only Game In Town starring Wayne Brady;  Oliver Twisted! (hosted by Tom Hanks, Lily Tomlin & Lesley Ann Warren);  co-writer and director of the critically acclaimed Anne, a play personally blessed by and based on the writings of Anne Morrow Lindbergh;  multiple cruise lines and theme parks, including Azamara and Holland America Cruise Lines and an original director/choreographer for the inaugural opening of Universal Studios Japan.
  
K.W. has been part of the creative and entertainment production teams for multiple charities and non-profit organizations which include Special Olympics, weSPARK Cancer Support Center, City Of Hope Hospital, Children's Hospital of Orange County and the Muscular Dystrophy Association, and has lectured, guest directed and advised as an industry mentor at universities and schools such Massey University (NZ), NASDA at Ara Institute of Canterbury (NZ), New World School Of The Arts (FL), University of Idaho (ID), Wright State University (OH), Point Park College (PA), Mt. San Antonio College (CA), David Howard's Dance Center (NYC) as well as multiple high schools and performing arts academies across the United States including Los Alamitos High School national champion show choir, Sound FX. 
  
Often credited as Kehan Miller in the performance arena, his film and tv work includes Roman Empire: Master of Rome on Netflix;  Avatar: The Way of Water and Avatar 3;  Gypsy (starring Bette Midler);  Sinbad: Beyond The Veil Of Mists (the first feature-length computer animation film created exclusively using motion capture);  General Hospital and numerous commercials. His performance credits also include the national Broadway tours of Wicked, Cats, Peter Pan and Babes In Toyland.  He starred in the world premiere of The Basement, a play he wrote and produced to critical acclaim in Los Angeles;  the award-winning productions of Nobody Hears A Broken Drum and Psycho Beach Party in L.A.;  Finian's Rainbow and The Pajama Game with REPRISE!;  Equus, A Midsummer Night's Dream, Romeo & Juliet, Cyrano de Bergerac and Pvt. Wars to name a few. His vocal talents have been highlighted on projects including Joseph Gordon-Levitt's Mr. Corman; various LeapFrog, Disney and Nickelodeon  productions, including Globehunters: An Around The World In 80 Days Adventure; multiple interactive games in The Cluefinders series, and several LeapPad games. He has written, produced and performed tunes featured on such shows as The Young & The Restless; Chef Roblé and Co., America's Next Top Model, Sony Playstation and more.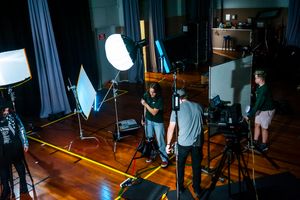 JASON BRUMBAUGH
Never one to rest on his laurels, Jason continues to enjoy a storied career across numerous disciplines and opportunities within the entertainment and hospitality industries worldwide. Initially hailing from a background in live performance, he has performed extensively across the U.S. and Asia in various regional theater productions, theme parks, vocal groups and industrial shows, and earned his Bachelor of Arts in Drama from the University of California, Irvine, where he participated in UCI's New York Theater satellite program with Broadway professionals and Tony award winners. These experiences not only helped him develop a heightened understanding of theatricality and context, but also the importance meeting the audience's needs through strategic revealing of content. 
A desire to seek other forms of creative expression led Jason to the emerging world of digital entertainment. For over 20 years, he produced numerous best-selling and award-winning digital games, mobile apps, websites, and interactive experiences for the likes of Disney, Hasbro, Discovery Communications, Senior Producer for the Hub TV Network, Leapfrog, Vice President of Digital for Genius Brands International, Paramount Pictures, CerebralFix Limited, and most recently, Virtual Training World. He also worked for several theme parks, including Great America, Kings Island, and Knott's Berry Farm. 
These pursuits had the unanticipated effect of fostering a desire to reconnect with people on a more personal and tactical level, resulting in the rediscovery of his childhood love of baking and the hospitality industry as a whole. During a hiatus from digital work, he earned his culinary degree from Le Cordon Bleu culinary school in Los Angeles and opened a successful dessert catering company shortly thereafter. Despite returning to his digital career, a seed was firmly planted that one day he would own and operate his own "brick and mortar" establishment using his newfound skills.  Not long after arriving in New Zealand did that seed grow and blossom when Jason and K.W. took over the well-established Saluté Tapas Restaurant & Bar in Greytown, Wairarapa in July 2017. Their near 3-year tenure with Saluté earned numerous accolades and top reviews from locals and travelers alike, and brought a new level of excellence with its world-class fare, service, artisan products and local events. 
Each endeavor has had its own unique foci and challenges, but the underlying principle has always been the same: fostering human connection and joy through mindful creative expression. This is the guiding principle of Blue Aeris, and one Jason is committed to promoting through all aspects of the business.